Star Wars X-Wing - Miniatures Game
Recreate the most memorable battles in the galaxy
"Evacuate? In our moment of triumph? I think you overestimate their chances."
–Grand Moff Tarkin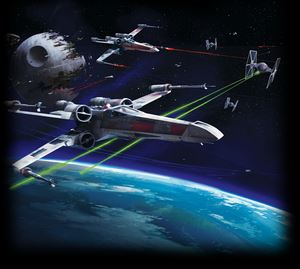 X-Wing can be played in a variety of ways. Select one of the thrilling missions in the rulebook for a narrative game, or dogfight with your opponent until only one ship remains. You can even create your own exciting scenarios or recreate a mission based on one of the epic battles from the films. No matter how you play X-Wing, only the most clever pilots employing a range of tactics will emerge victorious.
What's more, no mission will ever play the same way twice, thanks to a range of customization options, varied maneuvers, and possible combat outcomes. Damage, for example, is determined through dice and applied in the form of a shuffled Damage deck. Most damage results require you to draw a Damage card and place it facedown by the ship's card as a reminder the ship has been hit; however, each time your fighter sustains a critical hit, you'll draw a Damage card and place it faceup by the ship's card. Critical hits assign a special handicap. Was your targeting computer damaged, affecting your ability to acquire a lock on the enemy? Perhaps an ill-timed weapon malfunction will limit your offensive capabilities. Or worse yet, your pilot could be injured, compromising his ability to focus on the life-and-death struggle in which he is engaged...
With its dynamic rules system, beautifully detailed components, and range of gameplay options, X-Wing immerses players in the tense cinematic excitement of Star Wars' interplanetary combat. Take to the stars, and decide the fate of the galaxy!